It was a reasonably short drive from American Canyon down the highway to San Francisco until we hit the Toll booth. The traffic was horrific, but the $6 per car the government charges is a cash cow for them. After we battled the traffic, the drive to the Golden Gate bridge was seamless. It was another beautiful day, but a chilly breeze filled the air.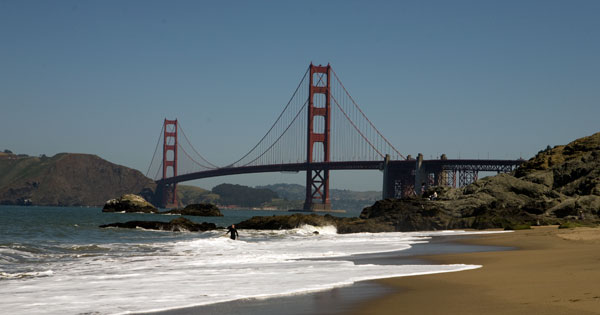 I would have thought there would be more security over the bridge since the killing of Osama Bin Laden, but maybe there are many electronic eyes watching us. We were told that more people jump from the Golden Gate bridge than anywhere else in the world, it's very sad.
Baker Beach was a great place to take photos of the bridge, best be there on a weekday as the weekends are quite busy. I also believe it's a nudist beach and they can get quite upset if you go down there with a camera, but luckily there wasn't anybody there that day.
We drove then for a few hours towards Monterey before having some lunch at Gilroy. In-Out Burgers have been around for about 40 years and since spending quite some time in the states a few years ago, it's the first time we actually tried one of these burgers. They are simple, no up sizing and fancy ingredients and cheap. $2.95 for a cheeseburger, and the 2nd best burger I've had. Number 1 is still Fatburger.
History surrounds you in the City of Monterey, one of the most historic sites in California. Original adobes are found on many street corners. Some are open for tours, others house contemporary businesses. From California's first theater to Colton Hall where the state's constitution was first written, you can trace Monterey's rich past on the Path of History.
We were told to go to the Monterey Fish House by the guy at the hotel as he said the it's local food and not generally one for the tourists which appealed to us. When we arrived at the restaurant, there was already a number of people waiting for a table, so we put our name down and waited for about 10 minutes. We sat right at the front door and as the night went on, so did the people waiting for a seat. We ordered our meals and after they arrived, we felt like we had an audience
§ One Response to Monterey