On the last few times, I've enjoyed diving the clear and warm waters in Phuket. The first time I dived in Thailand was at Racha Yai, the water visibility was around 20 meters and the second time was at Phi Phi island where the water wasn't as clear, but this can depend on many factors on the day. For a beginner, I do prefer Racha Yai, it's a little less dawning for the less experienced and the water is a little calmer.
It took a lot to encourage my daughter to dive as she is scared of fish and deep water, but she did well to get into the water and down to the bottom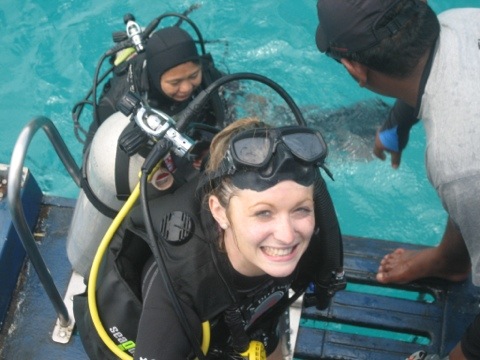 The sea life is ok, but don't expect to many large fish in the shallows. On our dive, we did see many fish and a few Moray Eels, we were lucky to see a lion fish which is extremely dangerous.
The last few dive places we used have now gone out of business, not sure why, maybe it's too competitive. This time, we booked through a dive centre on the back beach road.
The cost is reasonable at 4500 baht (approx $143 Aus), this included 3 dives at Racha Yai and Racha Noi, all equipment, lunch and all drinks while on the boat as well as transfers to and from the hotel.
The trip is approx 1 and a half hours or 2 hours if you dive Racha Noi, it s about the same, or a little longer if going to Phi Phi.