We woke up to the sound of rain and it's only the second day of rain we have had since in Phuket. We needed to get some final shopping done before coming back home, so back to Jungceylon and then we wandered back along the markets in the rain.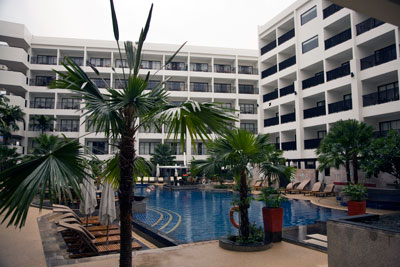 The hotel gave us a late check out which gave us more time to pack and get ready to leave. After checking out, we all met for lunch at Oasis and enjoyed our last official Thai meal together.
We farewelled Sue and Janette and waited for our pickup which was 20 minutes earlier than booked and we had to sit at the airport for a few hours before our flight. We arrived in Bangkok and walked to the gate to wait for our next flight. Our flight to Melbourne wasn't that busy and Bron and I moved to a seat where we had ample leg room.
The flight left 1/2 hour late, but we managed to catch up the time and arrived in Melbourne on schedule. A long drive home due to road works on the Tulla freeway and an early night. Another great holiday with great people.  Bron and I will travel to Bangkok in October.
Another early-ish start and we were all off on our tour to Pang Nga Bay. We took a speed boat out, which was a great way to to do it as it was so much quicker than the big slow boats.
We arrived at James Bond Island first and had an hour to look around the island, at the "rock" and the cave. Then we took off again and made our way to Koh Panyi, a muslim village on stilts.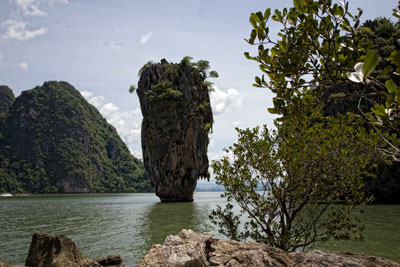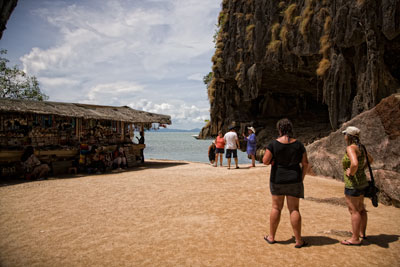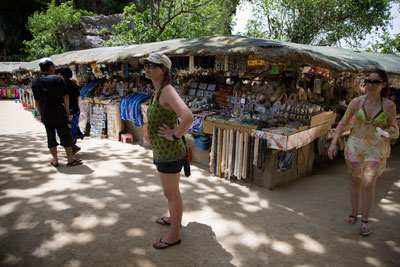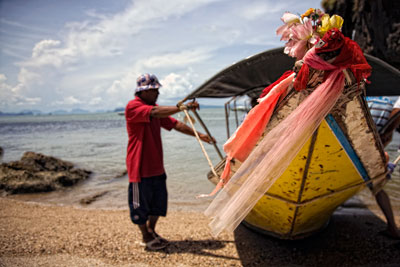 We had a fantastic lunch at the restaurant there over the water and then had time to explore through t he village and look at there stalls – everything the same, same, not different. It was great to see how these people live.
Back on the the boat and to Hong Island, where we met our "canoes". There was two of us to one canoe, with our "paddler". They took us through the caves and into a beautful, tranquil inlet, or, as they called it "honeymoon room", and pointed out many rock formations along the way. We all had a good laugh with our boys, especially Sue and Jeanette with "Zuzu" who wanted to have "honeymoon" with them!!! Next, and last stop, was Naka Island, where we hired deck chairs and relaxed on the beach with a couple of beers and a lovely swim, before our short trip back to the pier. A very enjoyable, and full, day was had by all.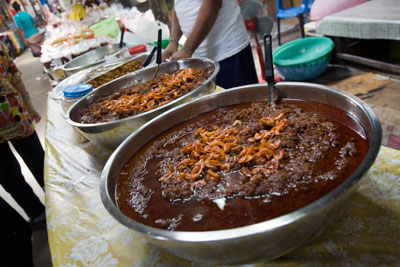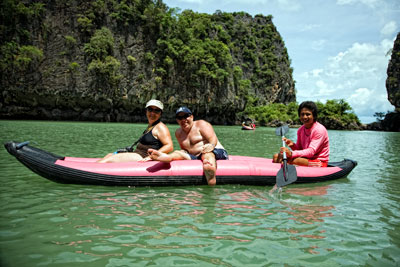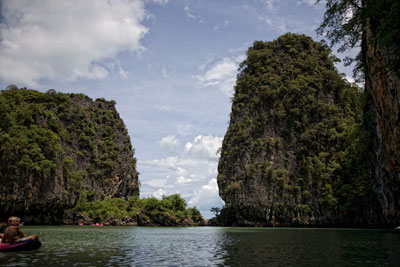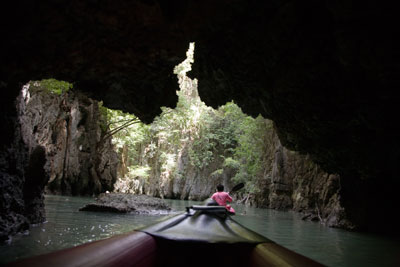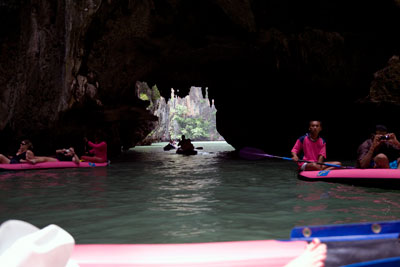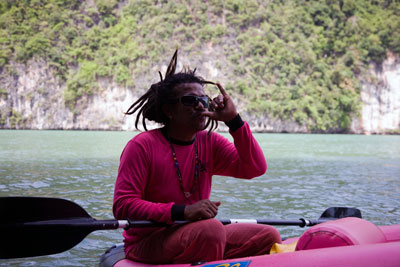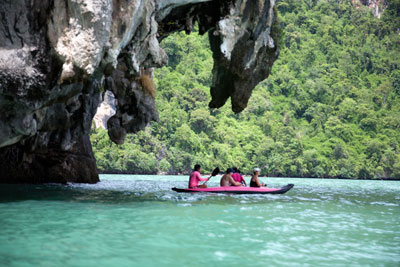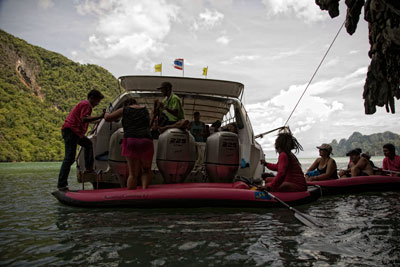 For our last dinner we head up the hill towards Kamala to "Pan Yaah" restaurant, overlooking the whole of  Patong Beach. We had a lovely meal. Greg had the biggest prawns you could ever see (as big as a lobster).
Then we got the tuk tuk back to Bangla Road and all made our way spearately back down the beach road (with quite a few stops along the way at the shops) to Porn's bar for a final drink together.
Bron and Ibooked ourselves in a Discovery Diving trip to Phi Phi Island. We started the day by being collected from the Hotel at 7.30 and we made our way down to the pier at Chalong Bay.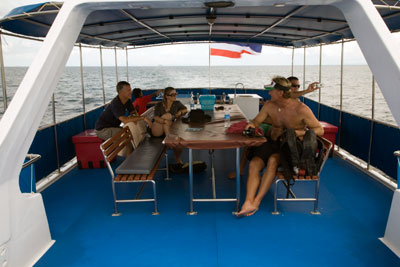 No time wasted, the boat head off on our three hour cruise (a three hour cruise!!!!). We arrived at the first small island and readied ourselves into our wetsuits, vests and tanks, fins and goggles.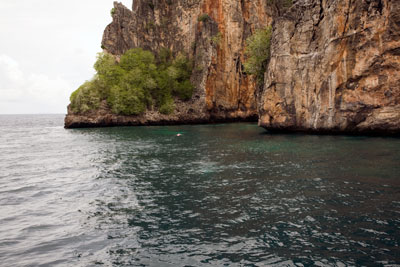 The adrenalin pumping, we followed Roger, our instructor, into the water and then there was no turning back. Bron struggled to get co-ordinated and found the first submerge a bit tough, but we succeeded on the second attempt and soon found ourselves amongst the most beautiful corals, sea life and fish imaginable.
The water was not fantastically clear, but the abundance of aquatic life made up for it. The 40 minutes passed so quick and before we knew it dive number 1 was all over. Back on the boat and a great Thai lunch and then we made our way to the second dive site. Again it was a scurry into our gear and in we go. The second dive was also fantastic and we even swam through an underwater cave – awesome! Once again, 40 minutes and it was all over. Back on the boat and headed back (3 hours again) to the dock. A fantastic day, and a great experience.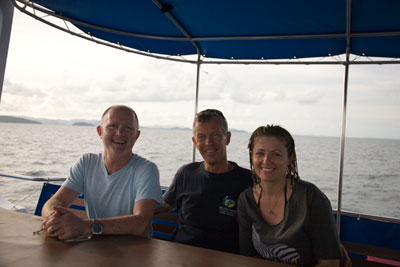 We didn't get back to the hotel until around 7pm, and as the others had already left for dinner, we went to the Ban Yin Dee restaurant, oveerlooking Patong Beach. We had a lovely dinner and cocktails, but we were both spent so we headed home, had lovely massage and then to bed.
This morning I decided to get up and try and take some pictures. I haven't taken many for some time and thought it might be a good opportunity.  Bron and I walked down to the river and watched a number of local fishermen going out for the day.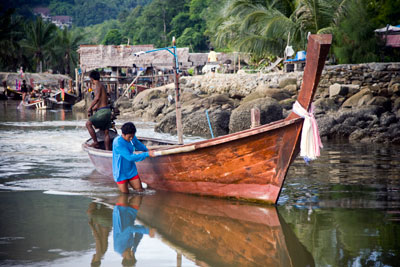 Above: Fishermen takening their boat out for a day of fishing.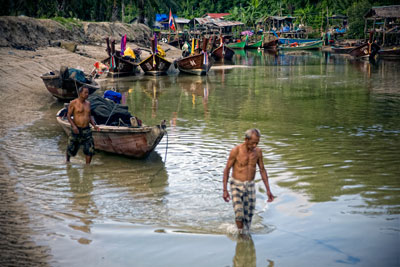 Above: Fishermen get ready for a day of fishing.
After breakfast, the rest of the gang sat by the pool, while Bron and I went to the Le Meredian for our Suba Diving introduction. At first, Bron had trouble with the breathing, but after a few trips around the pool, she got the hang of it and nailed it.
The afternoon was spent relaxing with a bit of shopping and laying by the pool.  Dinner at The Small View Point Restaurant which is on the coastal road from Kata to Rawai.